Arctic Babe Miniature Nectarine Tree
Arctic Babe is a new and exciting Genetic Dwarf White fleshed nectarine from Zaiger Genetics. Growing no taller than 6 feet at maturity this new variety is one of the few white naturally dwarf nectarines. The quality of the standard size fruit that is produced by the Arctic Babe is really the story. Rich full flavored nectarine that is both super sweet and juicy.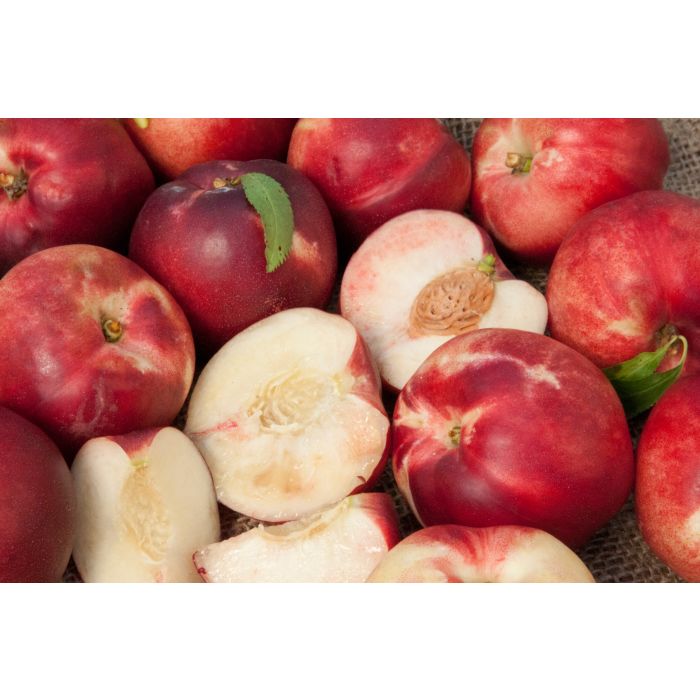 We do not ship to AK, HI, US territorries, Canada or Mexico. We can not ship citrus to TX, AZ, LA, NV or FL.
Find My USDA Cold Hardiness Zone
Enter your ZIP code to identify your USDA Cold Hardiness Zone
The USDA hardiness zones offer a guide to varities that will grow well in certain climates. Each zone corresponds to the minimum winter temperatures experienced in a given area. For best results, make sure that your hariness zone lies within the zone compatibility of the variety that you are considering.
Is This Plant Self Pollinating?
Arctic Babe Miniature Nectarine Tree is self-fertile, but the fruit crop will be larger if the tree is planted with a second tree.
Persica Var. nucipersica 'Arctic Babe'
Arctic Babe is a new and exciting Genetic Dwarf White fleshed nectarine from Zaiger Genetics. Growing no taller than 6 feet at maturity this new variety is one of the few white naturally dwarf nectarines. The quality of the standard size fruit that is produced by the Arctic Babe is really the story. Rich full flavored nectarine that is both super sweet and juicy. The tree works in many places in the landscape both as a great edible and a wonderful accent ornamental. The spring bloom on most genetic dwarf fruit trees is spectacular and the Arctic Babe will put on a spring color display. Early ripening, in late May to early June allows you to add other Mini selections to extend your harvest over 4 months
Water Needs:
regular water
Tree Size:
Genetic Dwarf grows 5 to 6 feet with little pruning
Pollination:
Requires Pollenizer
Primary USDA Zone Range:
7 - 9
Secondary USDA Zone Range:
N/A
Genetic Dwarf grows 5 to 6 feet with little pruning
Require thinning to control over production