Honey Halo Nectarine Tree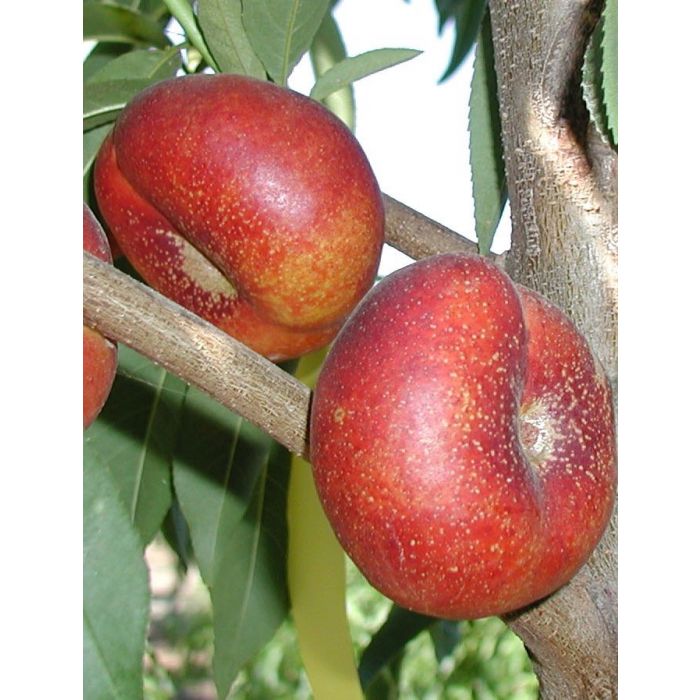 We do not ship to AK, HI, US territorries, Canada or Mexico. We can not ship citrus to TX, AZ or FL.
Find My USDA Cold Hardiness Zone
Enter your ZIP code to identify your USDA Cold Hardiness Zone
The USDA hardiness zones offer a guide to varities that will grow well in certain climates. Each zone corresponds to the minimum winter temperatures experienced in a given area. For best results, make sure that your hariness zone lies within the zone compatibility of the variety that you are considering.
Is This Plant Self Pollinating?
Honey Halo Nectarine Tree is self-fertile, but the fruit crop will be larger if the tree is planted with a second tree.
Prunus persica var. nucipersica 'Honey Halo'
Another of the wonderful Donut type Nectarines from the Tomorrows Harvest collection of flat peaches and nectarines. Honey Halo is red with speckled yellow-orange skin. It just looks like it will be delicious and you will not be disappointed as your first bite is met with a snap to the skin. The deep yellow-orange flesh bursts with a perfect sweet, rich nectarine flavor. A mid season ripening fruit, the Honey Halo Nectarine would be the perfect addition to any garden. Long harvest season with fruit becoming ripe when the fruit is firm and crunchy, then remains on the tree until it is rich smooth and sweet with juice just running down your arm. Plant it in combination with some of the other flat nectarines and peaches to have these unique fruits all season Good in USDA Zones 7-9 Nectarines are great for eating fresh and can be used in recipes the same ways peaches are used.
Fruit Color:
Yellow-orange
Water Needs:
regular water
Tree Size:
15' to 18 feet tall with a 15 foot spread. It can be held to any height below 10 feet to help with care and harvesting.
Pollination:
Self Pollinating
Primary USDA Zone Range:
7 - 9
Secondary USDA Zone Range:
N/A
15' to 18 feet tall with a 15 foot spread. It can be held to any height below 10 feet to help with care and harvesting.
Plant 6 to 8 feet on center.
Nectarines prefer a full sun location with well-drained soils. If poor drainage is suspected plant in a mound that is at least 24 inches high and 4 feet wide. Mulching helps retain moisture and helps to stabilize the soil temperature. Nectarines grow best in a location that gets at least 8 hours of direct sunlight preferably the morning sun. Select an area where cold air or frost will not settle. Choose a protected location that is sheltered from wind. Water regularly, at least weekly, during the first year in the ground. Keep the soil evenly moist, but not wet.